FaintFlex Vol. 13 - Rob Dyrdek's Impact
Native Content, Giveaways, & Rethinking Sales Associates
Happy FaintFlex Friday ☀️
As a reminder, I give sneak peaks of my newsletter topics during the week on Twitter.
Rob Dyrdek's Impact is Underrated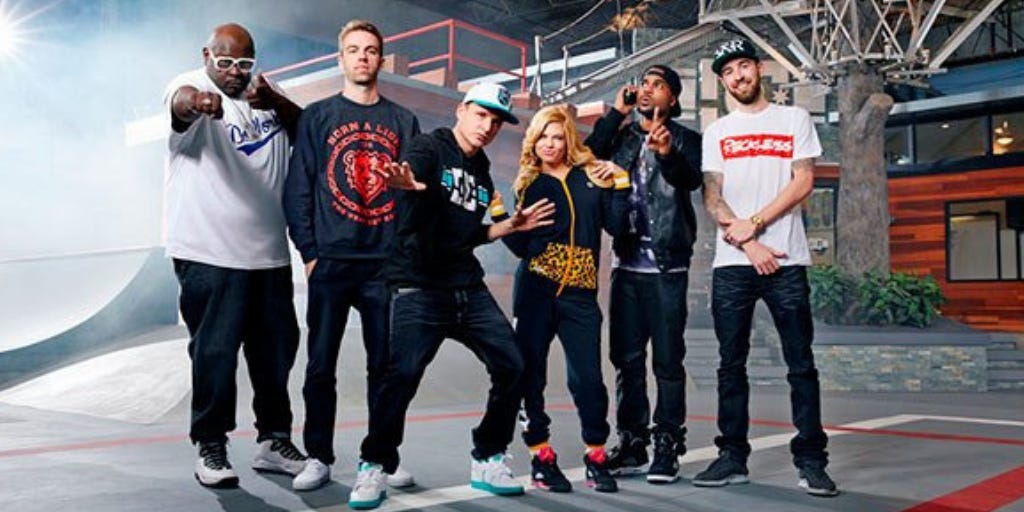 Rob Dyrdek's Fantasty Factory Crew (MTV)
Watching the brand new 100 Thieves facility video reveal immediately reminded me of Rob Dyrdek's Fantasy Factory. Then it dawned on me how just how influential the Ohio-native actually is.
Rob Dyrdek pioneered the group vlogging culture you now see today within gaming organizations and David Dobrik's Vlog Squad — he just did it on TV.
If you're unfamiliar with Rob, he rose to fame by becoming a teen professional skater in the early '90s. I like to call personalities that initially become popular for being exceptionally good at something Celebrity Experts.
He was sponsored by footwear brand DC Shoes early in his pro skater career, and became their leading spokesman for 20 years. His brand is so synonymous with DC, I thought Rob was a cofounder.
Dyrdek then went on to become a reality TV personality in 2006, launching a number of his own hit shows on MTV, including Rob & Big, Fantasy Factory, Ridiculousness, Amazingness, and even his own toyline/animated series Wild Grinders, which aired on Nickelodeon.
As the producer of his media projects, Dyrdek is not only paid as host, but also brings in revenue on the production side. Through post-production, talent, music, and editing, Superjacket pretty much owns the entire process, and reaps the benefits. - Foundr
Rob Dyrdek is a walking platform who kickstarted a number of businesses around the characters of his shows, including:
His cousin & assistant Chris "Drama" Pfaff, who started streetwear brand Young & Reckless on the show. He went on to cohost more shows and podcasts, remaining a relevant pop culture figure today

The late Christopher "Big Black" Boykin, Rob's best friend and body guard who started his own popular clothing line

Chanel West Coast, his receptionist who went on to become an artist & co-host of Ridiculousness
Not only was Rob & Big and Fantasy Factory the precursors to vlogs, but Ridiculousness was a precursor to the explosion of react videos.
Rob built the path that many internet personalities are following today.
He now runs a venture studio called Dyrdek Machine. Anyone else binge watching Fantasy Factory this weekend?
---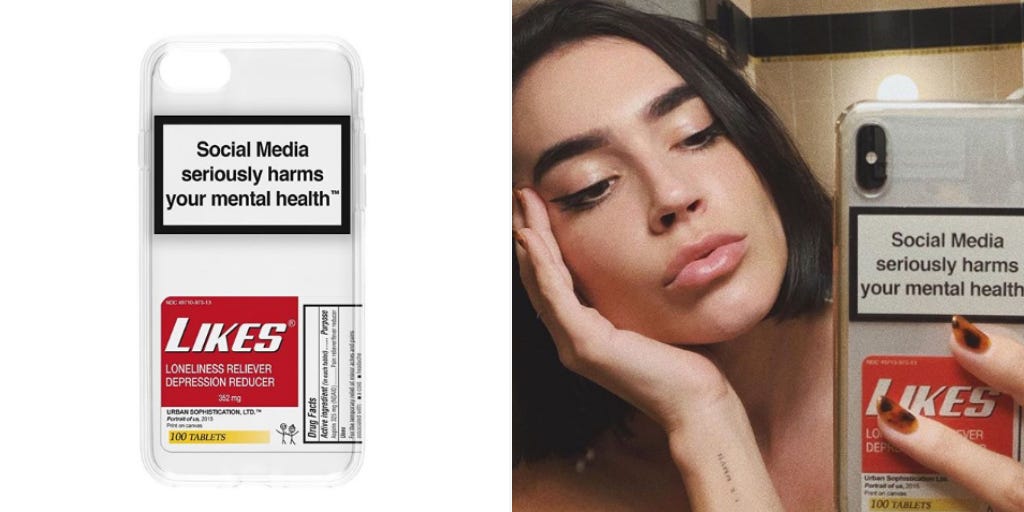 Ironically, a number of social media influencers & celebrities like
Brittany Xavier
organically support accessories brand
Urban Sophistication
If you know me well, you know I'm a big fan of creative constraints.
When you don't have the crutch of a huge creative budget, you're forced to figure out how to fundamentally connect with your audience in native ways.
I listed a ton of examples in this thread.
One glaring example of this is comparing pop culture cartoon startup WeBuyGold to the indie hip hop animator @GeD_Kid.
Founded in 2017, WeBuyGold creates mobile-first animated programming around top hip hop culture stars. It's not clear, but I'm pretty sure I remember reading in a job description that they were backed by top venture investors.
My guess is that they raised a few million in funding on the idea of hiring animators, script writers, producers, etc + pay the featured artists to narrate their scripts.
They didn't have to organically build an audience since they could tap into the distribution of their partner fanbases.
It generated a little buzz at first, but experienced below average engagement on YouTube. And they haven't posted on Instagram since April.
As someone native to young black culture, WeBuyGold doesn't feel like someone native created it. It feels overly produced and too scripted.
Now take GeD_Kid, a college art student who decided to take what he was learning in school and apply it to something he lives and breathes - hip hop.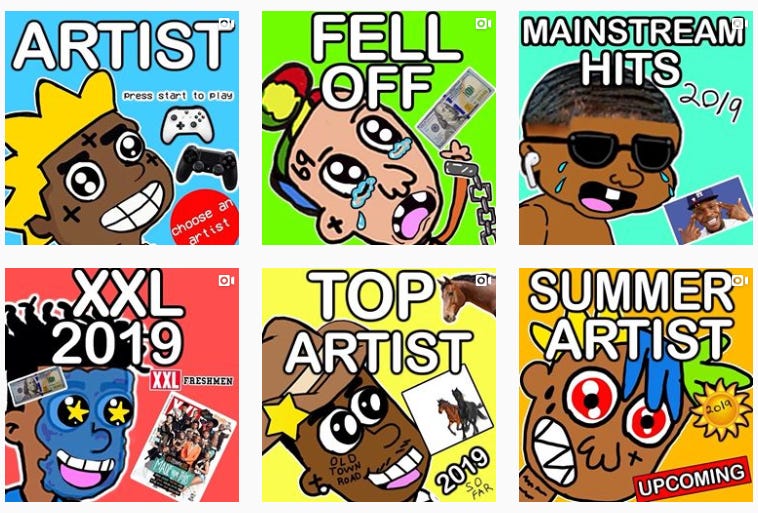 A few video animation covers from @GeD_Kid's Instagram
His work isn't polished per se, but the rawness of it captivates his audience the same way memes do. And he knows exactly which culturally relevant questions to pair with his animations that consistently spark debate among his followers.
It's very easy for him to come up with ideas for visuals because he is his audience.
The content he comes up with is native to the things teens visualize when they think about their favorite rappers.
His engagement rate is 15%, which is incredibly high considering he has 415K followers (which steadily grows each month). Well known rappers like Trippie Redd comment on his posts, and he frequently gets reposted on major hip hop Instagram pages.
He has built a sizable following with no team, funding, or connections. Just imagine what he can do next with the proper resources.
He's in great position to patiently experiment, build IP, and expand his digital universe.
Oh - one more native content example…
is the meme educator @JeffExplainsTheJoke.
We're all guilty of occasionally Googling what a viral meme means. Jeff just made that experience native to Instagram.
He gets his fans to tag him in the comments of posts made by accounts like @daquan to explain the meme. The dry humor juxtaposition of his explanations to the other silly comments makes his stand out and get a ton of engagement, which drives traffic back to his page.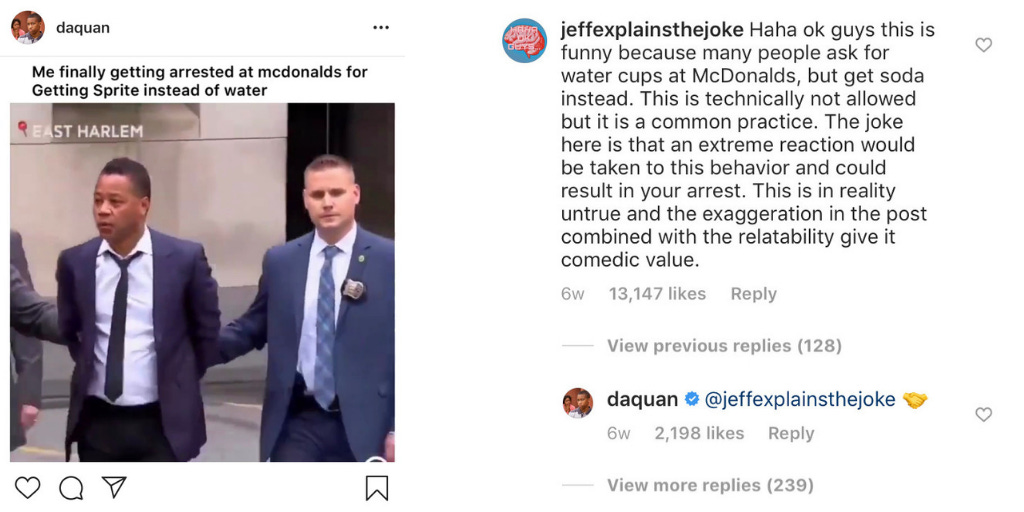 He quickly jumped 30k followers in July, but recently slowed down.
Instagram's algorithm used to show comments with the highest engagement first, but it looks like that's no longer the case.
Probably an initiative to crack down on spam & bots.
---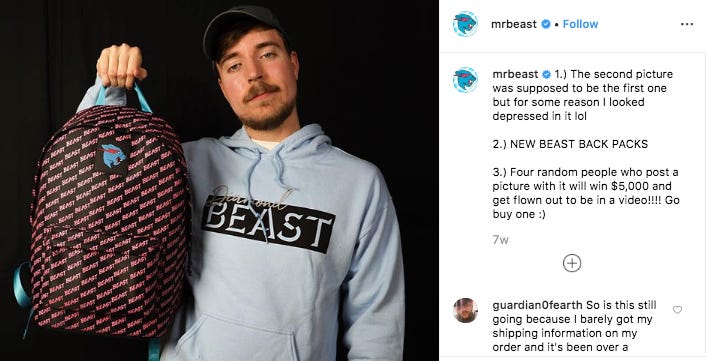 YouTuber & Internet Philanthropist
Mr. Beast
Generally speaking, it seems like the most effective way to build brand awareness on social media is to sponsor giveaways with influencers and other complimentary brands.
I recently went deep down the Giveaway Economy rabbit hole and discovered agencies and entire operations that support it.
Giveaways are everywhere, and people play them like the lottery.
But instead of just rewarding one big winner, it seems like there's a trend towards rewarding smaller prizes to multiple people.
As a business, if you have 10 giveaways going on at once in different corners of the internet, I imagine this process would become fatiguing to manage manually.
I'm curious if there are any businesses thinking about enabling giveaways at scale. Shoot me note if that's you or if you know someone!
---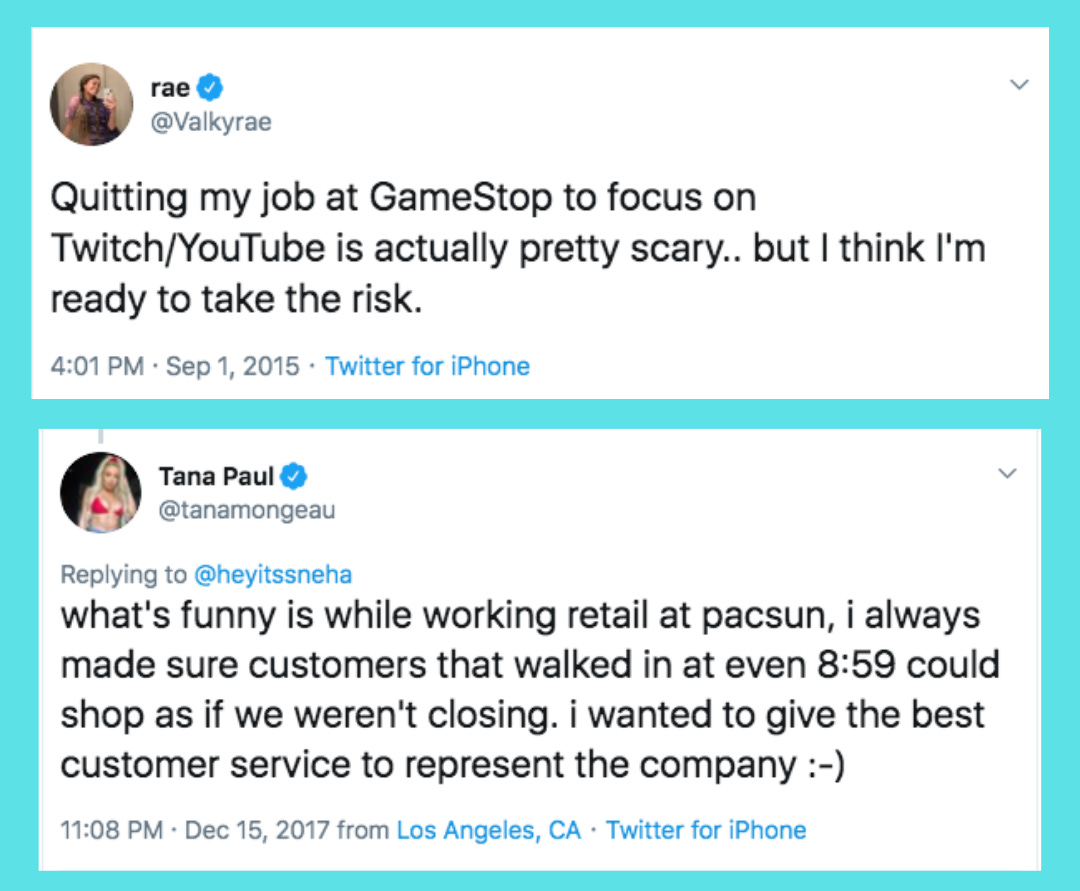 100 Thieves streamer
Valkyrae
worked for Gamestop, YouTuber
Tana Mongeau
worked at Pacsun
Anytime I go to a mall and get good service from a knowledgable, fashionable sales associate, I reflect on how the position really hasn't innovated much.
In suburban cities (like metro Detroit) where there's zero access to white collar fashion careers, mall retail jobs are highly sought after. It's the most accessible way for individuals to stay involved within an industry they have a personal creative interest in.
The only other way to be involved is to start your own fashion line.
It's interesting to see how Chinese department stores are attempting to turn their Sales Associates into a more aspirational role within their companies.
More below:
In April, Chinese department store INTIME began giving their sales associates a chance to make their dreams come true, collaborating with Alibaba to launch the "淘柜姐" or "Tao Saleswoman" plan, in which Intime sales associates are invited to be live streamers on Taobao. INTIME shared that they started this program 1. To boost sales and 2. To give their sales associates an opportunity to boost their incomes. It appears to be working. 100 INTIME saleswomen live streamed during the recent 618 shopping holiday, resulting in a 133% increase in sales YOY. 
---
Pieces That Didn't Make the Cut…
but I might expound on later:
---
Thanks for reading! Reply with thoughts and share if you enjoyed 🌙