FaintFlex Vol. 18 - AND1's Reign
Content-driven commerce before social media.
FaintFlex is a 

newsletter

 covering new media & personality-driven startups.
The biggest YouTubers are leaning into interactive experiences to fuel growth & keep their current audiences engaged. Look no further than the "Last One to Leave" video series, hosted by MrBeast.  
It's a 5-part tournament where MrBeast comes up with a survivor challenge and randomly selects four different followers per video to compete. The last one standing from each compete in the finale for a chance to win the $1M grand prize. 
Recurring characters within MrBeast's crew act as coaches for each contestant, & you're likely to walk away with a worthwhile prize even if you don't make it out on top. 
MrBeast has effectively evolved himself into YouTube's new favorite TV game host. Not only is this entertaining, but it's a way for him to identify new people to build narratives around. 
Other recent examples include The Reality House hosted by KianAndJc, as well as the Netflix hit original Rhythm & Flow (the Hip Hop American Idol). 
Even e.l.f. Cosmetics invited 25 micro-influencers to their Beautyscape summit to compete for $10,000 and the chance to develop their own makeup collection. 
As we see more creators & brands follow suit, I thought it would be fun to reflect on one of my favorite legacy examples - the AND1 Streetball Brand. 
Origin Story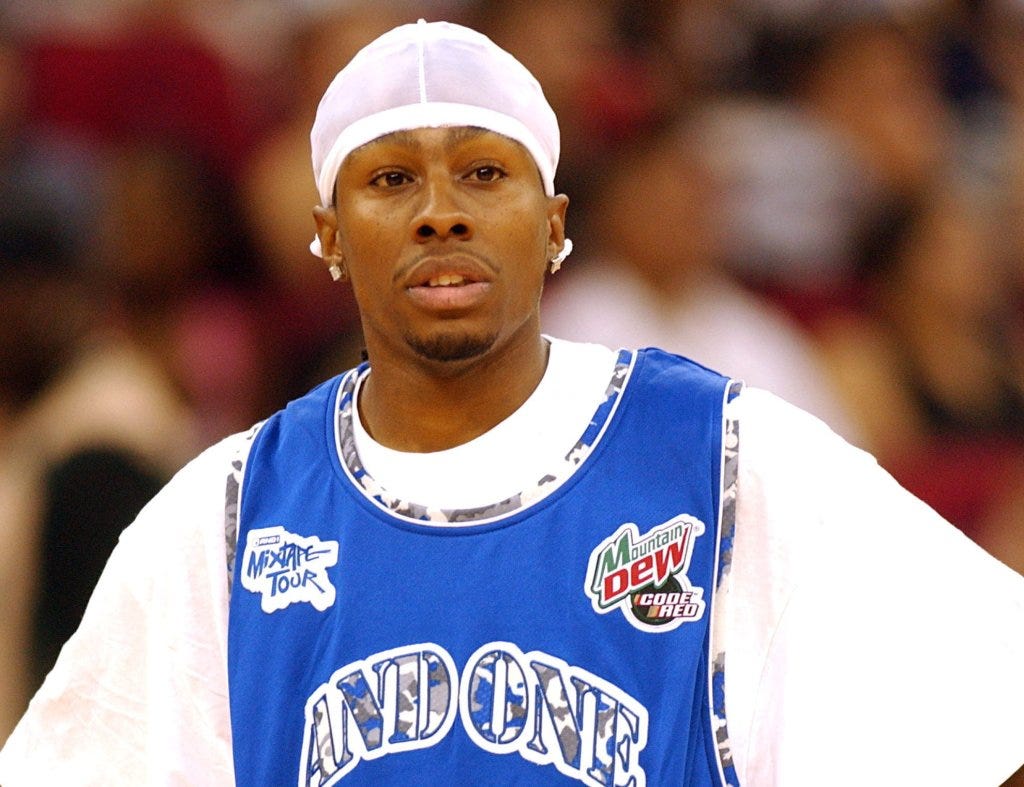 Philip "Hot Sauce" Champion, my favorite AND1 player (
Source: Steve Grayson / Getty)
AND1 was originally started by Wharton graduate student Seth Berger in 1993 as a recreation basketball player database. 
He quickly brought on co-founders & pivoted to creating an apparel & sneaker company after realizing there was no brand (at the time) that exclusively spoke to the young, hardcore basketball player community. 
Some of their most popular t-shirt designs featured common trash talk sayings you'd hear on the playground.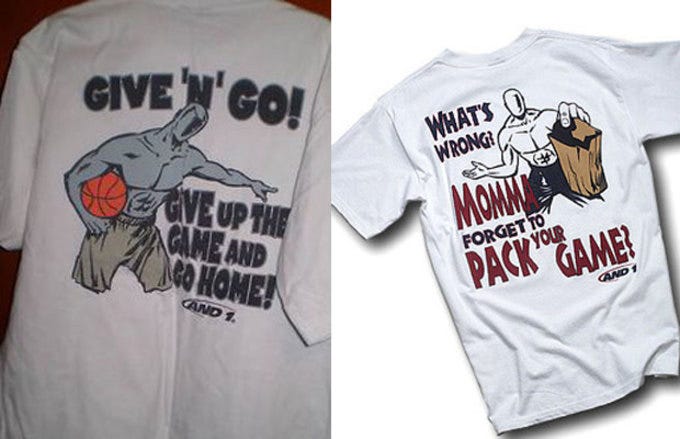 The AND1 Mixtape Tour
The following summer, AND1 sponsored apparel for the Rucker Park All Star Game, which featured a number of New York street hoops legends like Rafer "Skip to my Lou" Alston (who at the time was in high school).
AND1 recorded the game and began collecting recreational footage of Skip in the form of a VHS mixtape, where hip hop music matched the rhythm of Skip's flashy moves. 
In 1998, they ran a campaign to give 50,000 'Skip Tapes' away for free to anyone that tried on shoes at their partner retailer Footaction. Berger claims that they were all out in 2 days. Skip became a nationwide cultural phenomenon, and he continued endorsing the brand throughout his future NBA career. 
Footaction moved 200,000 pairs of footwear in three weeks, and BrandWeek named AND1 its Guerrilla Marketer of the Year. - Alexander Wolff (Sports Illustrated)
This demand for streetball content & culture sparked the idea to create an AND1-sponsored all star team that would go on tour and compete with the best street ballers in other cities.
AND1 would be able to build their own "influencers", activate their community through live game experiences, own original content, & eventually license it to ESPN through their show Street Ball - The AND1 Mixtape Tour, which was sponsored by Mountain Dew Code Red. 
Finding the Next Playground Legend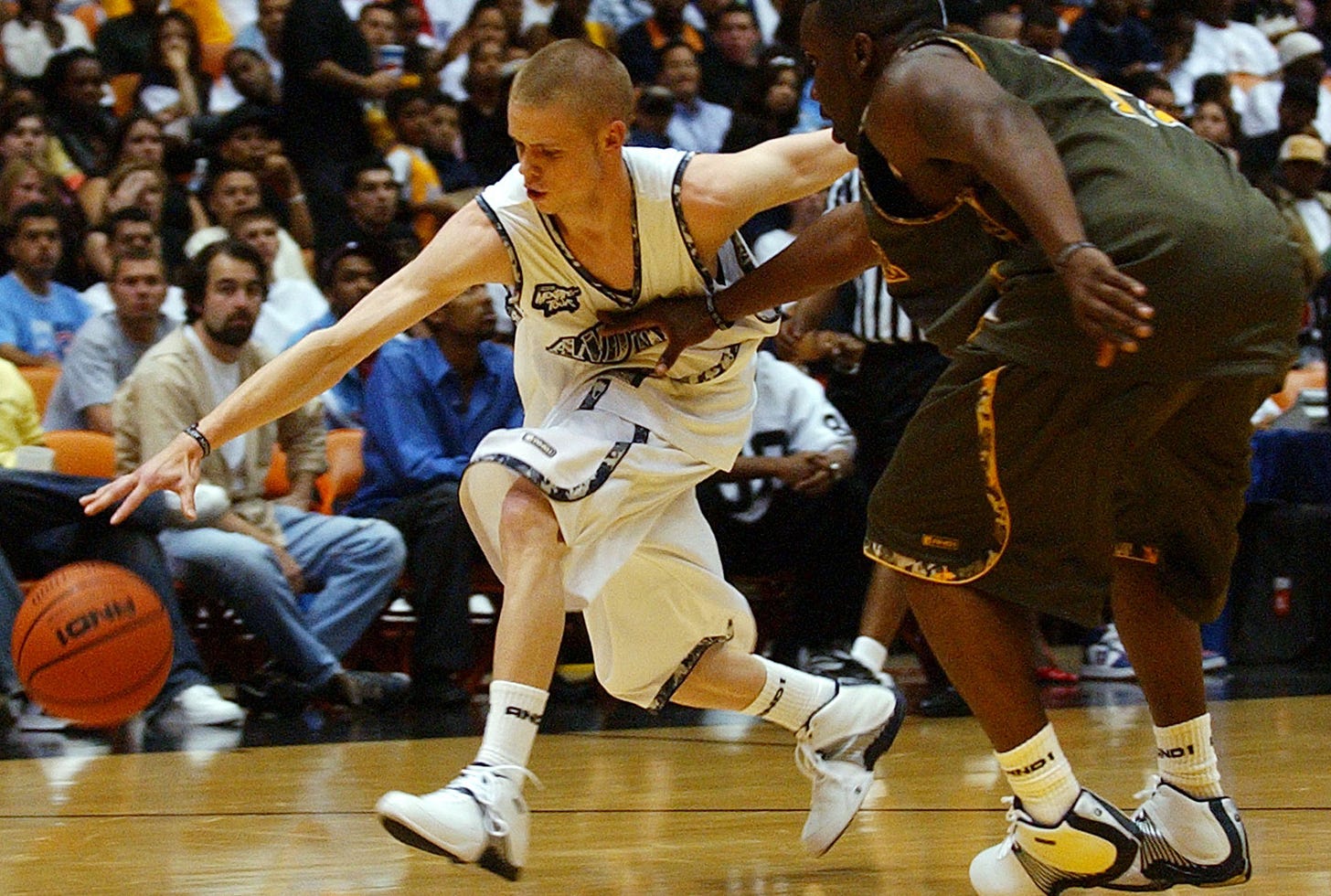 Former AND1 fan favorite Grayson "The Professor" Boucher
In 2003, AND1 introduced a survivor element to the tour. In each tour city, they hosted an "open run" or audition of the city's best streetball talent before the main event. The top 3 performers were selected to play in the city's official AND1 game. 
The AND1 team would then select the top performer to join their next tour stop. The last player standing at the end of the tour would be offered an opportunity to officially sign with the team. 
The inaugural survivor winner was Oregon-native Grayson "The Professor" Boucher, a former junior college athlete that went on to become one of AND1's most popular players. With 4M+ YouTube subscribers, The Professor maintains relevance even after AND1's final mixtape in 2008. 
The Peak 
Despite being amateurs, many of the AND1 personalities like Hot Sauce were more popular with youth than professional NBA players. And during the early 2000s, it was the number two basketball brand behind Nike when it came to NBA player endorsers.
In 2000 its market research in Houston found that Main Event and Hot Sauce enjoyed higher name recognition than Steve Francis, then the starting point guard for the hometown Rockets.
AND1 was special because regardless of your age, it felt like you could be out there performing. And you found yourself rooting for the underdog or whoever made it out of your city. In its second or third season, the show was a better performer for ESPN than SportsCenter among teen males. Even I have fond memories attending the 2004 tour visit to Detroit in a jam packed 12,000 seat arena. 
Not every kid believes he can be Michael Jordan. But do you believe you can be Skip? He's my size, from my place, and went through a lot of s---." - Jay Coen Gilbert (Sports Illustrated)
When it came to NBA player sneaker endorsement deals, they tended to go for the unexpected heroes like former Piston Chauncey Billups and recently Toronto Raptor's point guard Fred VanVleet.
Results 
AND1 went on to inspire the hit NBA Street video game franchise by EA, and even developed their own console game (which was notorious for not stacking up). 
It became an internationally recognized brand, generating $70M in sales by year 5, and peaking at $250M before selling to American Sporting Goods in 2005. 
YouTube was started the same year, birthing a new wave of digitally-native basketball mixtape brands like Ballislife and Hoopmixtape. AND1 has declined ever since, struggling to adapt with the changing interests of teens. 
They began to broaden beyond basketball to enable more consumers to buy their product, which ultimately diluted the brand.
I think the mistake we made was not saying, "You know what? If we can be a very profitable $300 million company, that is great. Let's do that. If we want to grow, what we should be doing is buying other brands that have different meaning to their consumers. So let's buy a running brand. Let's buy a fashion brand, as opposed to trying to make AND 1 broader to the consumer." - Seth Berger
TA Associates invested back in 1999. 
Looking Ahead 
If AND1 was reimagined for today's generation, it would look more like digital media brand Overtime Sports, who offers a platform for future pro stars AND talented personalities with less likely NBA hopes.  
(Note: Overtime was also co-founded by a UPenn graduate Zack Weiner) 
I can see it now. Imagine recurring Overtime personalities on tour:
I'm sure they've experimented with the idea, but have instead launched a Fortnite team first, which makes a lot of since.
Esports culture for teens today is in many ways reminiscent of what streetball was for me growing up:
Personality-driven, accessible, and something I could do with my friends.
---
As always, thank you for reading & sharing.
What are some of your favorite examples of interactive, survivor-themed content?
— Aaron McClendon 💭