FaintFlex Vol. 9 - The Netflix Entrepreneur-In-Residence Strategy
The best creators are building empires that extend beyond social media.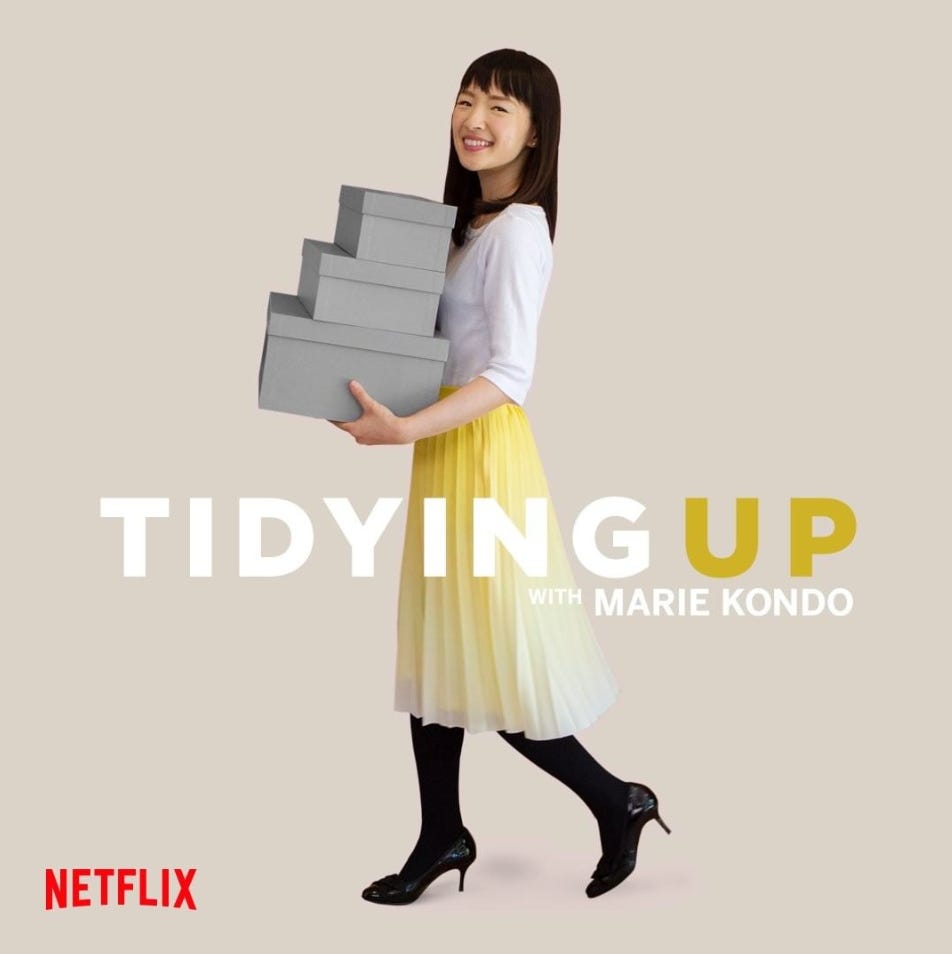 Marie Kondo, renowned tidying expert & founder of lifestyle brand
KonMari Media
(
Instagram
)
FaintFlex is a 

newsletter

 covering new media & personality-driven startups.
It's very easy to get caught up in follower counts, Instagram models, and viral dance trends when evaluating the potential of budding celebrity personalities.
But viral stars rarely maintain relevance over time without combining their entertainment skills with another passion or expertise.
Even top comedians like Kevin Hart and Dave Chappelle are known for talents beyond just their stand-up performances.
An influencer is best poised to succeed if he or she has "offline credibility," forging a career that's not contingent on social media fame.
- Max Stein, founder and CEO of Brigade Talent (Fashionista)
This is why the ideal personalities to build media brands around tend to be interest-based "celebrity experts," or commentators who use social media as a tool for community & growth, but don't necessarily need it the way a general lifestyle blogger would to be known in their fields.
Their fans tend to be attracted to the category or their content's educational utility, but continue coming back for the uniquely entertaining and relatable personality.
For '90s babies like me, Bill Nye was an original celebrity expert we grew up watching, yet with his current Netflix series and upcoming podcast, he continues to be a relevant figure in pop culture to this day.
All Roads Lead to Netflix & Their Competitors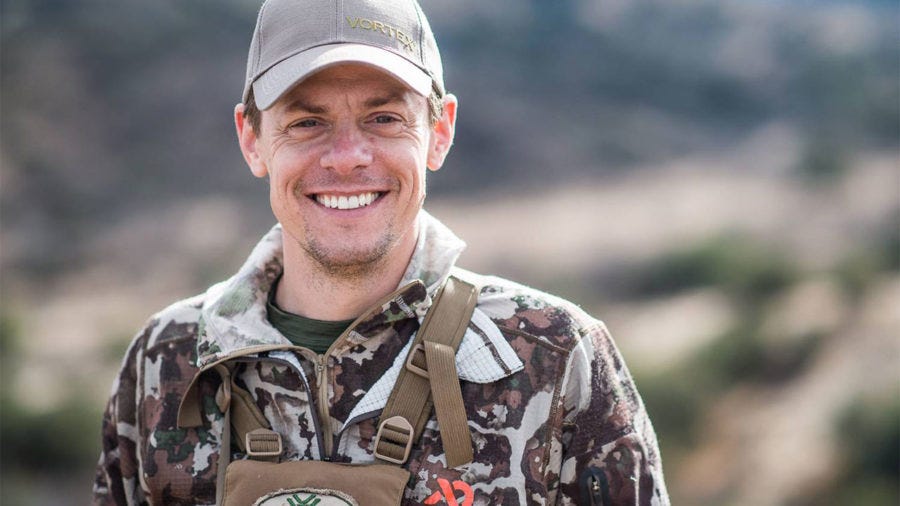 Steven Rinella, founder of outdoor lifestyle media & commerce brand
MeatEater
(Sportsman Channel)
The path to celebrity expert success can take longer than general entertainers, and those that do reach fame are normally accelerated by getting casted to a reality TV show or securing their own series/feature on a popular streaming network like Netflix.
For example, take Steven Rinella - a Michigan-native outdoors lifestyle personality who rose to fame after publishing several books and securing his first TV deal with the Travel Channel for a show called The Wild Within in 2011.
Rinella then moved on to the Sportsman Channel to create his current show MeatEater, which is now originally produced for Netflix (in partnership with Zero Point Zero Productions).
Every episode, Rinella begins by explaining his location and introducing his guests joining the hunting/cooking adventure. While celebrities like Joe Rogan may make guest appearances, Steven primarily invites his personal friends, which adds a layer of authenticity.
Understanding MeatEater - Why It's Interesting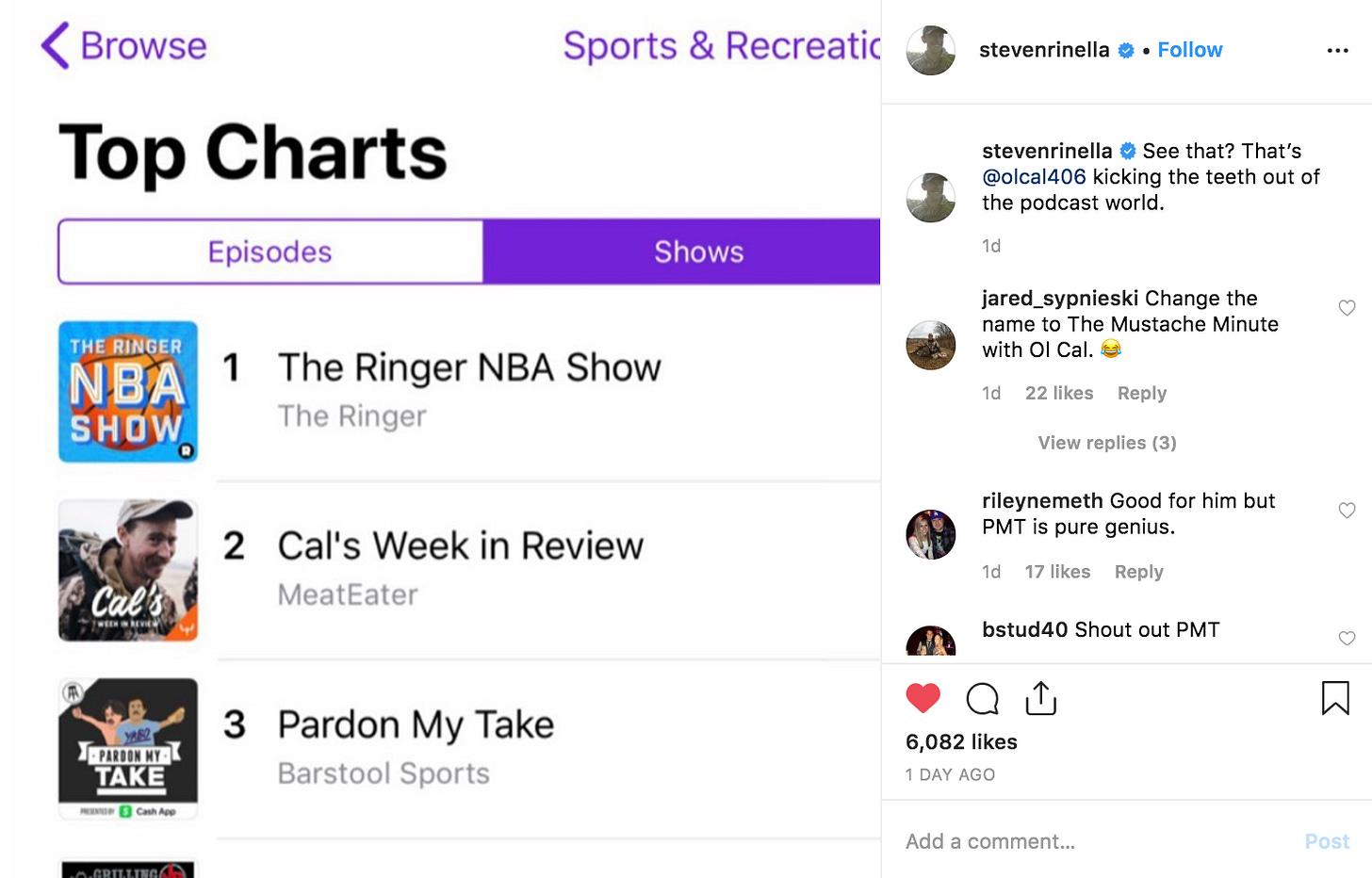 MeatEater is interesting because not only is it a TV series, but it has evolved into a modern media and commerce company driven by leading influencers in the categories of fishing, hunting, wild foods, and conservation.
They were backed by The Chernin Group last year to expand their online editorial, video, and podcast output; purvey unique apparel and equipment; and produce innovative events and experiences to serve the 40 million Americans who identify with the hunting lifestyle.
Although Rinella hosts MeatEater's anchor podcast, they've expanded their network by recruiting different relevant personalities to join the team who already operate their own podcasts, as well as developing homegrown talent to supplement Rinella.
Cal's Week in Review, hosted by MeatEater's Director of Conservation Ryan Callaghan, is the latest MeatEater podcast original. The first episode was released this week and has already topped charts for the sports & recreation podcast category.
Collectively, each of MeatEater's influencer follower counts add up to less than 1M followers. Although this may not seem like a lot, it doesn't matter as much when you have bingeable content that lives on highly consumed platforms beyond social media like on Netflix.
To predict what MeatEater could do next, you can just study their org structure. Their current CEO was the former president of Sitka Gear, and they recently brought on outdoor media vet Anthony Licata as Editor-In-Chief.
Other celebrity experts that come to mind who have leveraged their Netflix distribution into elevated lifestyle media brands include minimalist expert Marie Kondo - who has already raised from top investors like Sequoia Capital to expand KonMari, as well as The Minimalists and their documentary a few years ago.
Netflix has essentially become the premiere entrepreneur-in-residence program for personality-driven media empires. It makes you wonder whether they'd ever spin out their own media holding company of the future.
---
Interesting Content
Podfund raised $2.3M to make $25K-$50K investments in emerging podcast creators.
GaryVee's Gallery Media Group straddles the line between publisher & agency.
Himalaya Media launches podcast platform, network and community for creators.
Generation Z's favorite online apps and platforms.
There are Instagram pages that document what celebrities like on Instagram?!
KPCC To Launch Star-Studded limited-series Ramadan Podcast.
25 Influencers to Follow Before They Hit the Mega-Big Leagues.
---
Apologies for missing last week's newsletter. Hope you have a wonderful Mother's Day Weekend.
☀️ Aaron ☀️